Formed and started in 1895 by Steven Boyle and Stephen Maher S&S Windows have been offering high quality PVC products to homeowners up and down the country. With the customer focused attitude this has been the backbone in sustaining and growing the company over the years. With our show room centrally located at Antrim Business Park, Antrim why not call in and see for yourself what products we have to offer.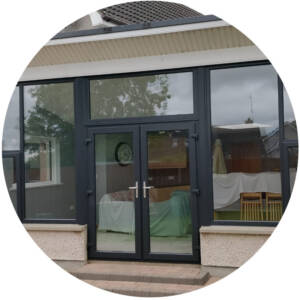 If you're in need of residential glass replacement, we offer a fast glazing service, our team will be with you as soon as possible to provide a speedy solution. We will work around your schedule to offer high-quality residential glazing with minimal disruption to your home. 
Doors & Your Porch
Bespoke Porches.
We also offer bespoke porches to add space and improve draught proofing to your external door. To open up the back of your home into the garden, you can choose from the modern aluminium bi-fold doors, the popular sliding patio doors or elegant french doors.
Get In Touch For a Free No Obligation Consultation.
Our previous work
Visit Our Gallery
Have a look through our previous work. View our galleries of different products, to help you visualise it in a real life setting.
We Work with the Best Brands
Contact us
Have Questions?
Get in Touch!